Metro Pawn Shop
5368 Buford Hwy NE, Doraville, GA 30340
(770) 986-9282
Open Mon-Sat 10am-6pm
About Metro Pawn Shop
Your Doraville Neighborhood Pawn Shop for over 30 years
New Merchandise every week!!
Best Rates on Pawn Loans!
We are first and second generation pawnbrokers who own and operate our own store. It's a family business, so we are able to offer the best loan rates and great bargains on the merchandise we sell. We don't have to answer to regional or national offices – if you are in a situation where you need a quick loan for an emergency – we want to help!
We have been part of the Doraville community for over 30 years, and have provided over 1 million loans and cash payouts during that time. Our bilingual pawnbrokers are ready to help you get a loan, sell your valuables, or make a purchase!
We know how difficult cash flow problems can be for people. Our goal is to provide an easy, convenient, and safe way to help our customers get the money they need today. 
Rated 4.9 out of 5 stars on PawnGuru!
Testimonials
"Great family owned business! Knowledgeable staff! I've been coming to them for years. As the oldest Pawn store in Doraville, I don't shop anywhere else."
-Cassie
Testimonials
"Simple. Straightforward. Friendly. This was exactly what I needed and couldn't have been easier. No shady dealing. Just business. Very professional. Thank you Metro Pawn"
-Tony
Testimonials
"Amazing experience with this shop, very helpful and good deals"
-Freddy
Testimonials
"Very professional and I felt very comfortable. Treating me like family"
-George
Over 30 years in Doraville!
Our bilingual pawnbrokers are ready to help!
 Hablamos Español
No Credit Check!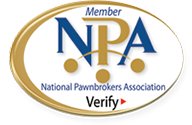 Member of the National Pawnbrokers Association

Member of Doraville Police Boosters

Member of the National Pawnbrokers Association